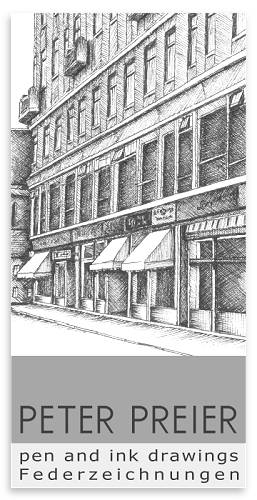 DEUTSCH & ENGLISH


PETER PREIER, PEN & INK DRAWINGS
FEDERZEICHNUNGEN
Peter Preier, Artist, Vienna-Austria,
manufactures exclusive pen and ink drawings
"Federzeichnungen" and illustrations.
This site is found by the following links:
Diese Seite wird unter folgenden Links gefunden:
The arts of Sadri, Oilpaintings, Textile
Yahoo!
Google
Open Directory
Central Apartments Vienna (CAV)
NBCi
top
movingcompanies
Absolutearts
Artist Portfolio - Themes/Nature
Jrol BusinessGateway
joeant



AnySearchInfo Directory

acont.de

Boop.ca Everyone's Portal

Arts : Visual Arts : Drawing

Asian-Links

Art of Austria

Directory.net

Cdnet.com

Home Based Business

American Arts and Crafts Directory

PeopleWebŪ

PreierMedia

and many other...